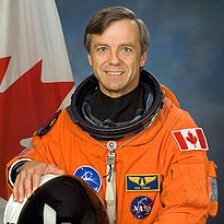 Robert Thirsk, is the first Canadian astronaut to make a long-duration spaceflight.
Thirsk received bachelor's and master's degrees, respectively, in mechanical engineering from the University of Calgary in 1976 and from the Massachusetts Institute of Technology in 1978. He earned a doctorate in medicine in 1982 from McGill University in Montreal. He was practicing medicine at the Queen Elizabeth Hospital in Montreal in 1983 when he was selected as one of the first six Canadian astronauts. Thirsk was the backup to Marc Garneau when the latter became the first Canadian in space in 1984.
Thirsk made his first spaceflight as a payload specialist on the STS-78 mission of the space shuttle Columbia, which was launched on June 20, 1996. The spaceflight carried a pressurized Spacelab module in which Thirsk and his crewmates performed biological and materials science experiments. The mission lasted nearly 17 days and at the time was the longest space shuttle flight.
In 1998 Thirsk trained as a mission specialist for space shuttle flights at the Johnson Space Center in Houston, Texas. In 2004 he was certified as a flight engineer for the Russian Soyuz spacecraft at the Yury Gagarin Cosmonaut Training Centre in Star City, near Moscow.
Thirsk was launched to the International Space Station (ISS) on his second spaceflight on May 27, 2009, aboard the Soyuz TMA-15 spacecraft. He and his two crewmates, Roman Romanenko of Russia and Frank De Winne of Belgium, joined three other astronauts on board the ISS to bring it for the first time to its fully operational capacity of six crew members. He was on the ISS for nearly 188 days before returning to Earth on Dec. 1, 2009. Between his two spaceflights, he had spent nearly 205 days in space, more than all other Canadian astronauts combined.
Dr. Thirsk resigned as astronaut and left the CSA in 2012 to join the Canadian Institutes of Health Research in Ottawa. As Vice-President of Public, Government and Institute Affairs, Bob oversaw the thirteen institutes dedicated to specific health care issues such as aging and cancer research. In 2014, Bob retired from the federal government and began a four-year appointment as Chancellor of the University of Calgary.
Bob serves as director of several social purpose organizations as well as member of the CSA's Human Spaceflight Consultation Committee.
Follow Robert on Twitter @RobertThirsk
Job title:

Chancellor and former astronaut Canadian Space Agency

Company:

University of Calgary

Connect With: