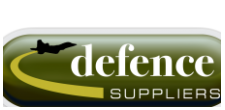 www.defence-suppliers.com
Defence-Suppliers.com provides a unique platform to present your latest equipment and systems to the world's defence and security industry.
We are the defence industry's number one information resource for MODs, DODs, decision makers, governments, prime contractors, service chiefs, defence ministers, police forces and system integrators.
The portal provides an opportunity for visitors to develop international relationships and generate new business opportunities.