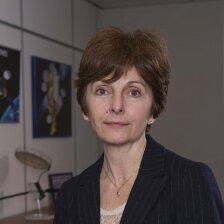 Magali Vaissiere is the Director of Telecommunications and Integrated Applications of ESA (responsible for the ARTES programme of ESA R&D programme in satellite telecommunications and applications with an annual budget of 300 Meuros-) since 2008. She is also the Head of ECSAT (UK Centre of ESA located in Harwell) since July 2013.
Before joining ESA, she has worked in industry: EADS-Astrium Satellite (for 15 years) and earlier in Thomson-CSF Radars (9 years).
Education: engineer from the Ecole Nationale Supérieure des Telecommunications de Paris (Telecom Paris Tech) & Master of Sciences of Stanford University, Executive MBA from the Centre de Perfectionnement aux Affaires.
Since March 2014; Member of the French "Académie des Technologies".
• ECSAT
ECSAT (the European Centre for Space Applications and Telecommunications) is ESA's new facility in the UK. It is based at the Harwell Science Innovation and Business Campus in Oxfordshire. First opened in 2009, ECSAT is being developed by ESA following agreements reached between the UK and ESA in Nov. 2012. ECSAT supports activities related to telecommunications, integrated applications, climate change, science and technology.
The expansion of ESA in the UK matches the increased importance given to Space by the UK.
Job title:

Director of Telecommunications and Integrated Applications

Company:

European Space Agency