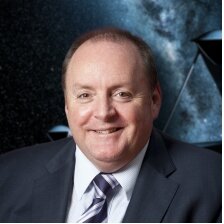 Professor Phillip Diamond has 30 years' experience in the field of radio astronomy and a long-standing involvement in the Square Kilometre Array (SKA) radio telescope project. In October 2012, he left his position as Chief of CSIRO Astronomy and Space Science (CASS), Australia, to lead the SKA Organisation from the new headquarters at Jodrell Bank near Manchester, UK.
In his role as Chief of CASS, Diamond directed the operation of two major facilities: the Australia Telescope National Facility (ATNF: comprising Parkes Observatory, the Australia Telescope Compact Array and the Mopra telescope) and the Canberra Deep Space Communications Complex (CDSCC) at Tidbinbilla, part of NASA's Deep Space Network. In addition, he was responsible for the team designing and constructing ASKAP, the Australian SKA Pathfinder, built in Western Australia.
He first became involved with SKA in 2000, shortly after his return to the UK from 12 years at the NRAO in the USA, when he organised one of the early meetings of the International SKA Steering Committee (ISSC). Since that time, he has been heavily involved in various SKA activities.
Diamond is currently the Director General of the SKA Organisation.
Job title:

Director General

Company:

SKA Organisation

Connect With: